Finance for $0 Down and pay less each month for solar than you pay your currently to the utility.
Replace Your Electric Bill
There has never been a better time to invest in a solar installation for your home or business. Save on your energy bill! The federal incentive program has made solar electricity affordable for most Fort Pierce homeowners. Ask for more details!
Grid-Tie Systems
The most popular is a grid-tie solar system, which allows the owner to create electricity during sunlight hours, send the excess power you might generate during the daylight hours back to the grid. Then you can draw that "stored" energy back at night or cloudy days. If you have used all you energy credits, you can use electricity from the local power company during non-sunlight hours like you normally would..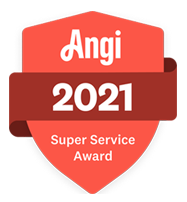 Solar Installations and Service Customers in Southern Florida
The 30% Federal Tax Credit
has been extended until 2032

Solar Panels for Electricity

Solar Panels for Hot Water

Solar Panels for Pool Heating
Green Movement
With our solar hot water systems, Fort Pierce homeowners always have a reliable supply of free hot water. The superefficient system that our solar panel installers use has a backup element, providing hot water even during cloudy days. Homeowners who have purchased our solar hot water collectors are also pleased with the aesthetics of our system, which looks quite similar to a large skylight.
The "Green Movement" has made huge headlines in recent years, and most people are thinking about renewable energy and what kind of footprint they themselves are leaving on Planet Earth. Solar energy is healthier for the environment. Solar electricity does not emit poisonous air pollutants into the atmosphere. It creates a much healthier environment for communities, families, and children with health problems. It also reduces our dependence on fossil fuels and foreign energy sources.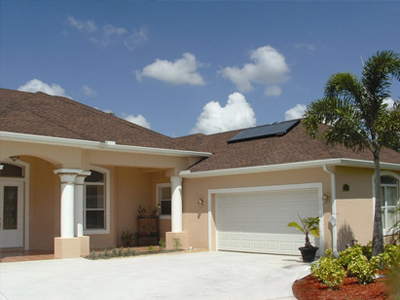 Why Install Solar Panels in Fort Pierce Florida?
Although solar power is being used more and more throughout the US, it still isn't incredibly popular. Even in Fort Pierce FL, most homes use electricity powered by fossil fuels. In fact, despite how much sun the state gets, Florida is one of the top ten states in terms of coal usage and imports billions of dollars of it per year.
Florida state lawmakers have recognized the importance of solar power in recent years and have started to encourage Florida residents to make the switch to a solar system. Not only is Fort Pierce FL in a great position to use solar power, but there are also decent incentives and benefits to those that install a solar system.
With a goal of having the entire state run on renewable energy by 2050, lawmakers have made sure there are more benefits to switching than there are drawbacks.
At the beginning of 2019, over 380,000 homes were powered by solar energy. This number has only increased as tax benefits get added and more residents switch over. As of January 2020, the cost of solar power was only $2.70/watt, the lowest average in the country! To install 6kW, it would have cost $16,200 before any rebates or tax incentives offered by the Florida government.
In addition to a seven percent tax exemption on solar energy installation, there is also a 30 percent solar tax credit all residents are privileged to. This allows you to deduct 30 percent of the installation cost on your income tax.
While the breakeven point for most solar powered setups varies from 6 to 8 years, it really depends on how the cost of electricity changes from when you first switched. Florida actually ranks in the top 15 highest for the cost of electricity, so you'll end up saving thousands of dollars in the end.
Benefits of Installing Solar Panels in Fort Pierce FL
Aside from just the tax benefits and reducing pollution, there are many benefits to solar installations. If your Fort Pierce FL electricity bills are already pretty high, perhaps around $120/month or more, you'll actually save money by switching and end up paying less per month with solar than with your regular company.
Particularly in St Lucie or Fort Pierce FL, there is very little to worry about in terms of solar energy. Nicknamed the Sunshine State, Florida sees sun year round which means you won't have months where you worry about getting enough power. Even on cloudy days, the sun shines through and you can still harness solar energy with solar installed by our solar installers!
1. Save On Your Average Monthly Electric Bill
Obviously, one of the top reasons for switching to solar energy is because you can save money on your Fort Pierce electric bill in the long run with your solar installation. After just a few years, the cost of solar installations will balance itself out, and you'll be able to live off essentially free electricity. Besides the fact that you can save money on your average Fort Pierce monthly electric bill, you don't have to worry about any potential increases in the price of electricity.
2. Potential to Earn Money
Forgetting about the tax incentives offered by Florida state lawmakers, there is the possibility to earn money back after installing your St Lucie panels. Thanks to Net Metering, you have the ability to put any unused electricity from your solar panel installations back into the power grid. Your Fort Pierce utility company will return your excess power as you need it at no charge until you exhaust all of the credits.
3. Adds to Your Home Value
Adding solar panels to your Fort Pierce FL or St Lucie home actually increases its overall value. In fact, out of all other possible home investments, solar investment is one of the top things that increase the value almost instantly. If you are thinking you might sell your St Lucie or Fort Pierce FL house in the future, a solar panel system can certainly be worth it. Some Fort Pierce solar panel installations can even pay for themselves entirely in this way.
4. Earn Tax Credits
As mentioned above, the Federal Government is offering many incentives and tax credits for switching from regular electricity to solar powered. By making the switch and installing a solar panel system, you'll get to take advantage of these and write off a large percentage of the cost on your income tax if you qualify. Your Fort Pierce solar panel installation is also exempt from sales tax, saving you 7 percent.
How Solar Energy Works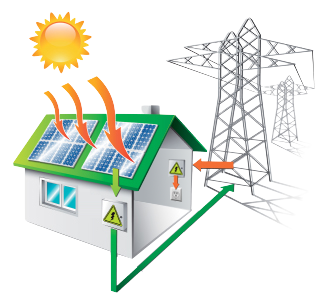 How solar energy works can sound a bit complicated and as such, this may turn you away. Don't be intimidated by it though since it really isn't that difficult to understand. In the simplest of terms, solar panels convert sunlight into DC energy that is then converted into AC energy and able to be used by anything on the electricity grid. It's really just a bunch of conversions.
Put more precisely, solar energy works by taking in the sun's rays with solar cells, sometimes called photovoltaic cells. These cells are made with silicon and absorb the sun's light, not heat, and work together in one panel to convert the light into usable energy such as DC energy.
Once the solar cells have converted the sunlight into DC energy, the energy passes through an inverter that turns the DC energy into AC electricity. AC electricity is what is used in homes and by all your electronic devices, so you'll be able to use this electricity almost immediately after it's captured. If you don't end up using all the electricity that your St Lucie solar panels create, the extra power gets set back into the power grid and you'll get to use it at night when there is no solar resource.
How Much Can I Save With My Solar System?
You can calculate how much money you'll save with your solar system, thanks to many online calculators that are readily available. We highly recommend that you contact us, your local Fort Pierce solar installers, for a direct and custom quote on the costs and how much you could save with your Fort Pierce Florida solar project. Keep in mind that it will take at least a few years for your St Lucie or Fort Pierce FL solar panels to break even but after that, you're essentially using free electricity.
Best Solar company on the Treasure Coast! My Hot Water system has lowered my FPL bill and exceeds my expectations. The staff at Solar Energy Systems are all superb and had no issues. Prompt and efficient.
Joelle
Manager
We had researched solar energy for years but couldn't locate a company which either had a good track record or was still in business. After several years, we learned our friends obtained solar for their home and qualified for the government incentive. We observed how the liked the system for several months. In fact I was there when they installed their system and asked many questions. So we finally decided to learn more.
I can honestly say the installers sold me on the company and I was even more pleased when they installed our system and answered every question I had honestly.
Solar takes time to get use to using But saving money and cutting the over rated power company out of your bottom line is worth it.
I don't know if solar is for you and your house hold but you owe it to your family to sit down with Solar Energy System and find out.
Horace Edwards Jr.
Manager
Purchased a Solar Electric system 3 months ago, and since then my FPL bill went from $195 to $5. Guys were very professional at time of install and Solar Energy Systems made it a very smooth process. Highly recommend!
Denise Badini
Manager
We had an old Pool Heat pump that was time to replace, so we decided to go Solar to lower our electric bill and since we have a neighbor who has had their Solar pool system for almost 20 years now and still works. Loved our Heat pump but did not like the extra $100 it was costing us on our electric bill. Very Happy with our decision because my electric bill is now lower again and we have a 90 degree pool using just the sun!
Chrissie Hardie
Manager
I can't say enough good things about this company. We had an emergency with our Solar Hot water tank that was from another company who wouldn't answer our phone calls and thankfully Solar Energy Systems came to the rescue. They were out in no time and fixed our leaking tank with a reasonable fee to fix another companies mistake. Lesson learned on hiring a non-local company to install a product, wish we would have gone with this company to begin with.
Marie Muir
Manager
Schedule A Free In-Home Consultation And Get A Free Solar Quote
For Solar Installations
Get in touch with our Fort Pierce solar installers and see how a solar energy system can save you money
Solar Hot Water
The ideal solution for any problem would be one that benefits all concerned while doing the least amount of harm. This is a great description for solar-powered water heating: It saves you a lot of money, conserves fossil fuel, and does no harm to the environment. Like all solar-power solutions, heating your home water with solar is a win-win solution.
Solar Electric
How would you like to take the solar energy and reduce your electricity costs by 40% or more? Solar Energy Systems has over 40 years of experience serving the Treasure Coast and surrounding areas with high-caliber and energy efficient solar panel installation and PV energy system design.
Solar Pool Heating
Heliocol solar collectors are constructed like no other. Unique design characteristics and innovative engineering make Heliocol the best solar pool heating system available. The balance between design, excellence and durability make Heliocol the smart choice for your residential or commercial needs.