Installing solar panels is a great way to equip your home with a reliable renewable energy source. As more state governments provide incentives for households that choose to install solar panels, there are even more benefits to making the switch.
Solar panel installation should not be taken lightly and needs to be done by professionals. When installed incorrectly, solar panels, if not installed correctly,can damage your roof and be inefficient, making them not worth the investment.
For homeowners looking for a way to decrease utility bills and move towards a more sustainable energy source, a solar power system is the way to go, and when you choose our reliable solar panel installation services, you can rest assured that your home will be well taken care of.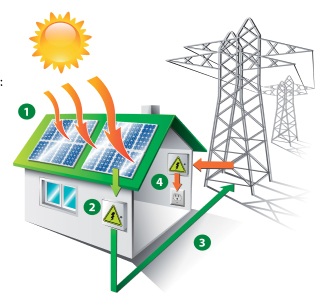 Why Choose Solar Power?
Solar energy is becoming more prominent in Florida. While more homeowners are deciding to make the switch to renewable energy, not enough have started choosing solar to have a large impact. This is why many states, including Florida, offer renewable energy programs that reward homeowners for switching to solar energy by a certain year. Every program is different, but many include tax benefits both Federal and State. . Not everyone qualifies for these benefits, so check with your local State Certified Solar Contractor to explain how they might benefit you.
If you think you might switch to a solar system in the future but don't want to do it now, think again. There are financing programs to fit everyone's budget and the savings from the solar system generally pays the payment for the system and usually there is a few dollars left over to put into your bank account.t. By making the switch sooner rather than later, you can benefit from the government program as well as start your journey towards free energy.
How Can Solar Help You Save Money?
Through the benefits provided by the state governments and the fact that harnessing solar energy costs nothing, solar panels can save you a lot of money.
While you will have to purchase solar panels and pay for solar installation, it's entirely free to use them. Aside from a few maintenance costs, you won't have to spend any more money on either energy bills or installation costs.
It is important to note that it will take a few years before solar panels begin to pay themselves off, but the alternative is keep paying the utility company and never pay them off.. Depending on how much energy your household uses, this may be sooner rather than later. Once you reach the breakeven point, you're benefiting from free solar power and won't have to worry about paying for your electric bill again!
How Much Can I Save By Switching to Solar Power in Port St. Lucie?
It really depends on how much energy your family uses, but the short answer is: you can save a significant amount on your electric bill! Over time, solar systems can help you save thousands on electricity bills. If your household uses a lot more power than most households, you'll actually end up saving more. Contact us for a direct and custom quote on the costs, and we can also help you calculate how much you could save.
In order to save as much money as possible, it's essential that your solar panels are installed properly the first time. You also need to ensure that the number of solar panels installed is enough to power your home.
Why Choose Our Saint Lucie Solar Panel Installers?
We pride ourselves on providing high-quality, professional solar installation services to all our clients. With our years of expertise (since 1979) and in-depth knowledge of solar power, our experienced team ensures you receive expert advice and that your solar panels are installed correctly the first time.
As a local solar panel installation company, we enjoy good relationships with our local clients. Our reviews speak for themselves, and you can rest assured knowing that we have all the right permits and licenses required. Our solar company will be able to get your panels installed in a reasonable time instead of making you wait for months like other solar companies that often sub-contract their work. With us as your professional solar provider, you know that the entire solar panel installation process is in good hands.
Frequently Asked Questions
How Much Does Maintenance for Solar Panels Cost?
Maintenance costs depend on a couple of things: the number of solar panels you have and the extent of the damage. If you have minor repairs or you just want them cleaned, it will cost much less than if a panel is cracked or stops working.
Can I Live off the Grid With Only Solar Panels?
No, not really. As long as there is a utility wire feeding your house, you will be required to pay a connection fee per month even if you offset all off your kilowatt usage (small monthly fee). When using solar panels with whole-home batteries, you can store and save enough energy to keep your home independent from the grid (less the connection fee).
Do Solar Panels Work in a Blackout?
Yes. As long as the sun is shining above, and there is a battery back-up system connected to the panels. This forms a micro-grid and allows the solar panels to pass through their energy and automatically disconnect the system from the grid. Solar panels will work no matter what, even during a blackout, under the conditions stated above.
Do Solar Panels Work When It's Cloudy?
Yes. Because the sun is still shining from behind the clouds, your solar panels will still harness energy that you can use to power your home. They will obviously perform at a lower level but depending on the cloud density, they can still produce energy.
How Do Solar Panels Impact My Property Value?
Solar panels actually increase the value of your property, so if you ever plan on selling your home or you want to take out a home equity loan, installing solar panels is a great idea.
What Happens if Leaves Cover the Panels?
Solar panels will still work even with pollen or dust on them, but you should brush leaves off if you notice them. Leaves can prevent a panel from turning on and absorbing sunlight, so try to keep your panels clear. Normally, because the glass is slick, the wind will usually clear off the leaves.
Schedule A Free In-Home Consultation
See how solar can save you money
How would you like to take the solar energy and reduce your electricity costs by 40% or more? Solar Energy Systems has over 40 years of experience serving the Treasure Coast and surrounding areas with high-caliber and energy efficient solar panel installation and PV energy system design.
The ideal solution for any problem would be one that benefits all concerned while doing the least amount of harm. This is a great description for solar-powered water heating: It saves you a lot of money, conserves fossil fuel, and does no harm to the environment. Like all solar-power solutions, heating your home water with solar is a win-win solution.
Heliocol solar collectors are constructed like no other. Unique design characteristics and innovative engineering make Heliocol the best solar pool heating system available. The balance between design, excellence and durability make Heliocol the smart choice for your residential or commercial needs.